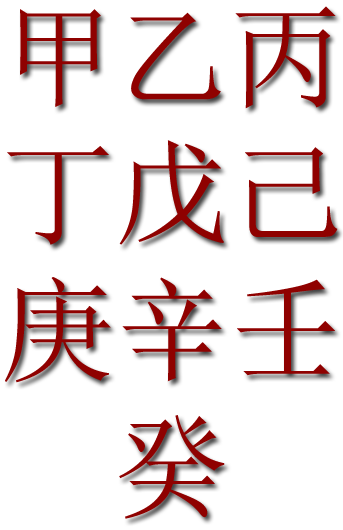 The 10 Heavenly Stems

The 10 heavenly stems are a Chinese system of ordinals that first appear during the Shang dynasty (1250 BC), as the names of the ten days of the week. They were also used in the Shang-period ritual as names for dead family members, who were offered sacrifices on the corresponding day of the Shang week.
The 10 stems belong to one of the 5 elements and have an alternating YinYang polarity. Each stem follows the cyclical changes of nature in chronological order.
The 10 heavenly stems
Stem
PinYin
Polarity
Element
Meaning
1
甲
jiǎ
yang
wood
Tender buds split pods
2
乙
yǐ
yin
Seedling grows up day by day
3
丙
bǐng
yang
fire
Growth becomes notable
4
丁
dīng
yin
Seedling becomes big and strong
5
戊
wù
yang
earth
Crop is growing luxuriantly
6
己
jǐ
yin
Crop is ripe
7
庚
gēng
yang
metal
Renovation takes place
8
辛
xīn
yin
New life begins to shape
9
壬
rén
yang
water
It is becoming pregnant
10
癸
guǐ
yin
Next generation begins to sprout
In chronoacupuncture the 10 heavenly stems are often combined with
the 12 earthly branches. Together they form the sexagenary cycle, a group of unique stem and branch combinations.